Empowering Activism: Ecodharma retreat for women of color
With Kritee (Kanko), PhD, Asia Dorsey and Sarah Jones
June 17 - 21, 2020
— Do you self-identify as a woman of color and work within the climate & social justice movement?
— Do you feel burnt out and/or overwhelmed and wonder if and how our emotions can be our strength?
— Can we build a movement that is rooted in our deepest spiritual values or can we engage in advocacy such that it is an integral part of our spiritual growth?
— Do you feel yoga and meditation can help release internalized white supremacy and other modern-day stresses lodged in our bodies?
If yes, come join Boundless in Motion (BIM) and Satya Yoga Cooperative at the stunningly pristine and healing Rocky Mountain Ecodharma retreat center (RMERC) for a retreat designed for empowering self-identifying women of color who work for the climate and/or social justice movement. You could be a climate-mom, direct action leader, climate scientist, journalist, lawyer, community organizer, author or storyteller. Through silent hikes, meditation, yoga, gratitude/grief/rage rituals and other group-work, we will explore how we can deepen activism as a spiritual path, learn to honor and transform our emotions, face the root cause of our suffering, act with deep compassion & courage in these difficult times.
Teachers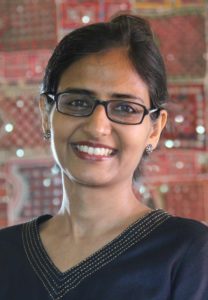 Kritee (Kanko), PhD
Kritee (dharma name Kanko) is a Zen teacher, scientist, activist, dancer, and permaculture designer. She directs and teaches Boundless in Motion Sangha in Boulder in the Rinzai-Obaku Buddhist lineage of Cold Mountain and is a Co-Founder and Executive Director of Boulder Eco-Dharma Sangha. She is also a co-founding teacher of Earthlovego, a community of meditation practitioners, teachers/professors & environmental advocates from different backgrounds seek ways to deepen synergy between their spiritual practices and their activism through workshops at Lama Foundation in New Mexico. Kritee trained as an environmental microbiologist and biogeochemist at Rutgers and Princeton Universities, and has done over ten years of research on mercury pollution. She currently works as a senior scientist in the Global Climate Program at Environmental Defense Fund and is helping implement environment and climate-friendly methods of farming at large scales in Asia with a. three-fold goal of poverty alleviation, food security and climate mitigation and adaptation among small scale farms. She places deep importance on the need of diversity, and the alignment of climate advocacy with social justice movements.
Learn more about Kritee (Kanko), PhD
Asia Dorsey
Asia Dorsey completed her Yoga Teacher Training in 2016 with the Satya Yoga Cooperative which is an organization that empowers people of color to use yoga as a tool for personal liberation and social transformation. She uses her practices of deep embodiment in her work as a bioregional herbalist, dream worker and healing justice coordinator to create and hold space for activists to contend with the whole of who they are. "Home, is in your body," she sings, and in doing so emboldens disenfranchised folks to be their own safe space. Asia's practice cultivates the seeds of collective creativity and pleasure seeing the goal of any practice as coming home to the divinity that lives inside of ourselves with suffering being an optional part of the process. "If it hurts, you're doing it wrong." Her style tends towards play, calls for deep attention, and results in a better understanding of the self.
Learn more about Asia Dorsey