Women, Wisdom, and Meditation in the Wild
With Grace Fisher
July 16 - 19, 2020
"Our bodies know that they belong; it is our minds that make our lives so homeless." –John O'Donohue
In these challenging times, so much of our suffering can stem from feeling disconnected and separate from ourselves, and from the people and world around us. For many of us, this suffering is fueled by the stories we tell ourselves about our lives. These narratives are often about our lack of belonging or of somehow not being enough. This retreat offers women the time to come together and practice in community amidst the beauty of the Rocky Mountains. Through different meditation practices, we'll start to see more clearly how these stories keep us from connecting. By deepening our awareness and presence, we'll touch into the power of our innate feminine wisdom and step into the truth of our deep belonging to the world.
This is a silent retreat with periods of sitting and walking/hiking meditation, drawing from both insight (Vipassana) and heart meditation practices. There will be daily teachings, guided meditations and time for mindful discussions in council. We will also actively practice with the natural beauty around us to further our sense of connection and belonging to the earth. New and experienced meditators are welcome.
Teacher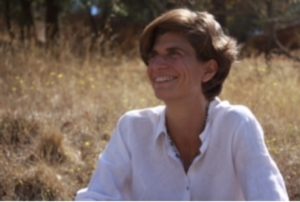 Grace Fisher
Grace Fisher, MFT, JD, MEd, is the Staff Dharma teacher at Spirit Rock and a psychotherapist in private practice in the Bay Area. She is a former lawyer who holds a Masters in Education from Stanford, and is a graduate of the Community Dharma Leaders program at Spirit Rock. She recently completed the Somatic Experiencing training and has studied at the Money Coaching Institute. At Spirit Rock, Grace also teaches a weekly women's class and various daylongs. She is committed to exploring how the teachings support us navigating the gritty, the challenging and the beautiful. A former Coloradan, she lives in Marin county with her daughter. For more information, please visit her website at www.gracefishermft.com.
Learn more about Grace Fisher